elementary OS 6 "Odin" is now available. Officially, this is the largest update to the platform to date. This release focuses on.
Empowering users to take control and express themselves
Continually innovate new features
Make elementary OS more accessible and inclusive
Download at: https://elementary.io/
Major updates to elementary OS 6.0 include a new dark style, improvements around application sandboxing using Flatpak, multi-touch support across the desktop, an improved notification experience, support for firmware updates via LVFS/Fwupd, a rewritten email client, an improved webcam application, and enhanced installer, and more.
The announcement notes that elementary OS 6 leverages cutting-edge sandboxing technology to enforce privacy and security protections at the technical level. In OS 6, all AppCenter applications are now packaged and distributed in the Flatpaks format; a modern container format that keeps applications and your sensitive data isolated from each other. Several default elementary OS applications are now also distributed as Flatpaks. In addition, elementary OS 6 uses portals to give you control over how applications interact with each other and your data. Applications must explicitly request permissions in a clearly defined way.
On the other hand, with elementary OS 6's full support for Flatpaks, AppCenter has been updated accordingly. elementary OS, for its part, says that while it has been reviewing, approving and curating third-party AppCenter apps, they are now also distributed as sandboxed Flatpaks for stronger privacy and security.
When an app is installed from a list, AppCenter now displays an in-app notification when it's done, so it opens faster. The development team has improved the design of app titles, including button comparisons. notifications in AppCenter now provide richer context, and improved language and contextual badges for installed apps and updates.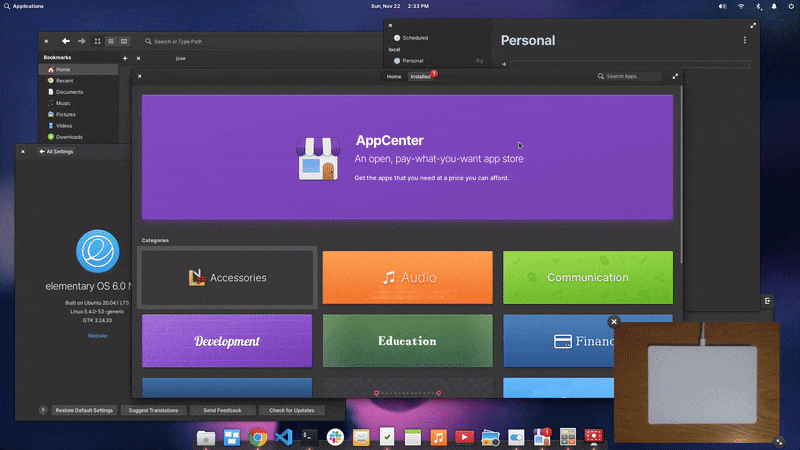 More details can be found at: https://blog.elementary.io/elementary-os-6-odin-released/